Bio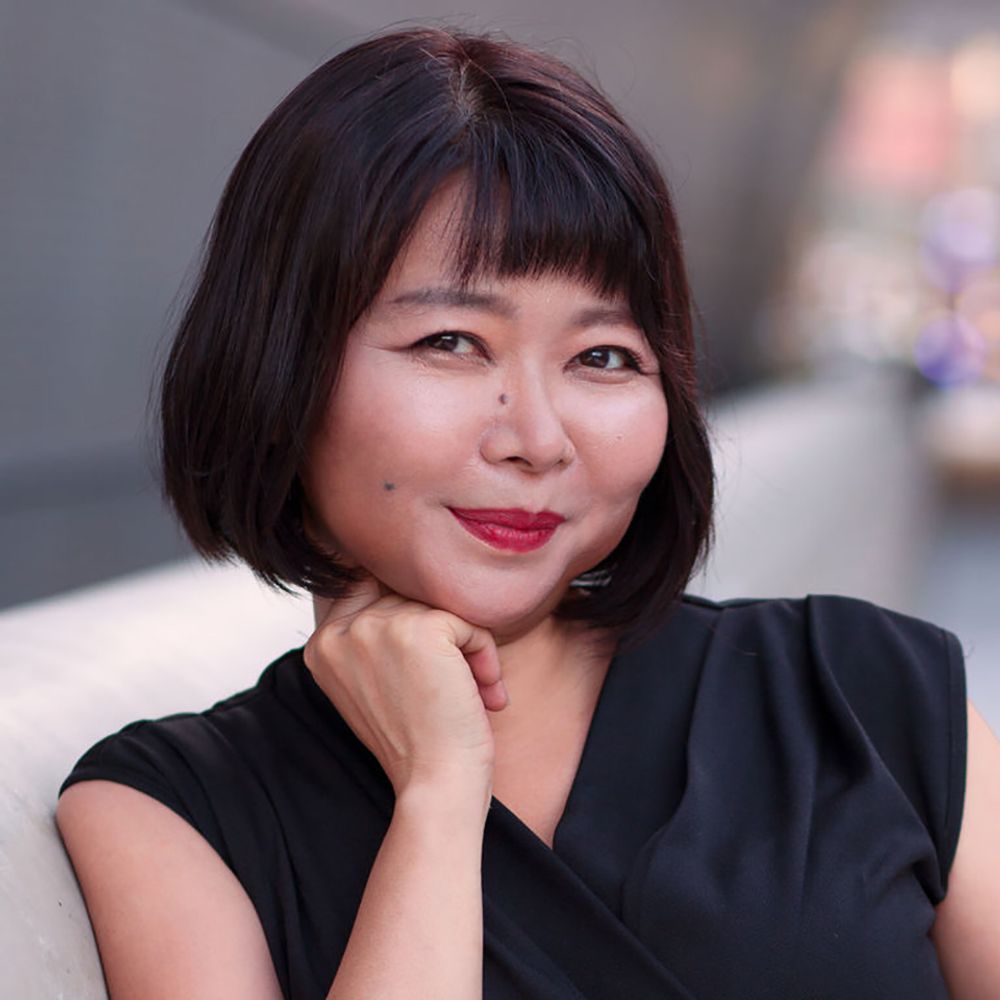 About
Karen Lyu is a unique and animated jazz singer/songwriter who loves to create unforgettable performances with playful exploration and authentic power. 

She swings, scats and soulfully savors heartfelt, brave and quirky songs about life, love, and things that matter. Her music is touched by jazz, folk, pop, funk, Motown, 80's, Broadway, classical, Latin, world music, and Korean songs. Her vocal inspirations include Sarah Vaughan, Carmen McRae, Janis Siegel (The Manhattan Transfer), Nina Simone, Holly Cole, Dianne Reeves, and Youn Sun Nah. People are often surprised by Karen's powerful voice and unique stage persona!

Born in Seoul, Korea, she loved to go up to perfect strangers and sing to them at age 2! Karen grew up with her struggling immigrant family in the US (CA, TX, and MN), got a Jazz Studies degree at Cornell College in IA, sang throughout the Midwest, and beyond, and now sings in South Korea. She's sung with 12 groups, including the Karen Lyu Jazz Experience, Karen Lyu Quartet, Yoo and Karen Duo, Karen Lyu & Fresh Jazz, Karen Lyu & Global Jazz, Pacha Mamas, Via Brasil, Jazz Transit, and Eddie Piccard Trio since 1993 and also with Soli Hughes (Sounds of Blackness), Devon Evans (Bob Marley), and Bruce Henry (Natalie Cole).

Karen's singing has been featured on National Public Radio, Democracy Now, film, TV, radio, cable and all kinds of stages. She's also traveled and performed in the US, Korea, Europe, Central America, Southeast Asia, and Brazil. She has won a 2010 MusiCares/Grammy Foundation grant, a 2010 NashvilleMuse Songwriter award, a 2007 Minnesota State Arts Board grant, and more.
Karen currently performs with 3 dynamic jazz groups based in Seoul: Karen Lyu Jazz Experience (jazz/Latin/funk/crossover), Karen Lyu Quartet (swing), and the Yoo and Karen Jazz Duo (jazz/pop/funk/ballads).

Holistic Voice Coach Bio

http://www.holisticvoicecoach.com/about.html
Seoul Musicians
drums - Erik Schuster -  Facebook 

Born in Buffalo, NY 
Started drums at age 10 
1 of 16 drummers from across the USA selected for US Army All-American Marching Band 
Attended Berklee College of Music 2008-2012 
Studied drums under Grammy Award-Winner Mark Walker 
Graduated Summa Cum Laude with a dual major in Music Production & Engineering and Music Business Management and a minor in Acoustics 
Recording+Mix Engineer+Drummer for Dalkom Siren's single "Even a Moment in Time" 
Current Drummer for Standard One, B3, Rhonny and the Babies, and Honey Toast. 
Performed with Seoul Pops Orchestra at Seoul Hyatt 
Performed at - 
Seoul Great Beer Festival 
Seoul Arirang Festival 
Yongsan Base July 4th Festival 
Yves Saint Laurent Private Party 
Osan Airforce Base Fall Festival/Halloween 
Vespa VIP Events 
Duomo & Co opening party

piano - Youngjo Won - Facebook 

Born in Korea
Started piano at age 6
Full-time professional musician at age 21
Member of MBC Broadcastring Orchestra at age 26
Member of Korea's first jazz big band JANUS pianist at age 27
Full-time jazz pianist in Korea for 10 years, then in New York City for 10 years
Masters in Music ~ State University of New York
PH.D in Music ~ Sangmyung University
Professor of Jazz and Electronic Music Production at Kukje University of Art
Former music directer of Gunggi Pops Orchestra
Evean Korea label producer
Leader and composer of "The Burgundy" and other jazz recordings
 
bass and guitar - Kwang Hun Yoo - Facebook 
Kwang Hun Yoo is a versatile virtuoso jazz guitarist and jazz educator. 
His list of accomplishments includes the following: 
Ambassador of the Korean LOHAS Association 
2008 South Korea World Climate Change Expo Performance 
2013 Anseong World Music Festival 

Promotional performances include: 
Chevrolet Motors New Car Presentation 
Heineken Beer Summer Festival 
Lotte Chilsung Ceylon Tea Promotion 
Yeouido Yacht Festival 
Shilla Hotel Luxury Suites Presentation
Hyundai Department Store VVIP Wine & Jewelry Presentation 
Hyatt Hotel Summer Pool Presentation 
Namhae Hilton Hotel 
Ildong Hoodis National Tour 
Thousands of jazz clubs including: 
Once-in-a-Blue-Moon, Diva Janus, Watercock Cool Jazz Bar,
Crazy Horse, Lotte World Kpop Star, Han River Cruise, and more.